Confession: I hate book clubs. I do. I already have enough books that I want to read without having to read something that I don't really want to read for some club. I feel bad for this because one of my sweet friends wants to have a book club and I just do not want to do it. I mean, I'll go if I don't have to read the book, but that seems to defeat the purpose. And our taste in books are so completely divergent that I just don't see how we come out of it friends. I will only go if it is like Jane Austen Book Club with beautiful geek Hugh Dancy who will fall in love with me despite our mutual awkwardness and overall strangeness.
Anyway, just needed to get that off of my chest. I'm a selfish jerk with my precious reading time and I'm not sorry.
Ready Player One by Ernest Cline
Katie, I will love you until the end of time for recommending this. I have not been so completely and wholly sucked into a world in a while. I felt jarred and disoriented every time I had to put the book down and found myself in reality. As I mentioned last time I did one of these, I'm pretty over the whole dystopian movement, but this novel was a complete departure from everything I have read with that theme. It was fun and unique with infinite 80s pop-culture references.
In the year 2044, reality is an ugly place. The only time teenage Wade Watts really feels alive is when he's jacked into the virtual utopia known as the OASIS. Wade's devoted his life to studying the puzzles hidden within this world's digital confines—puzzles that are based on their creator's obsession with the pop culture of decades past and that promise massive power and fortune to whoever can unlock them.
But when Wade stumbles upon the first clue, he finds himself beset by players willing to kill to take this ultimate prize. The race is on, and if Wade's going to survive, he'll have to win—and confront the real world he's always been so desperate to escape.
The Girl on the Train by Paula Hawkins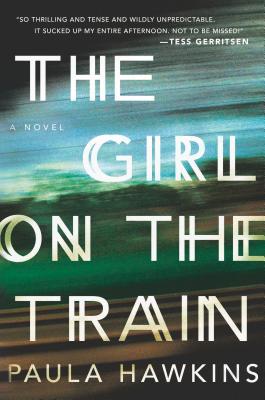 Rachel takes the same commuter train every morning. Every day she rattles down the track, flashes past a stretch of cozy suburban homes, and stops at the signal that allows her to daily watch the same couple breakfasting on their deck. She's even started to feel like she knows them. "Jess and Jason," she calls them. Their life—as she sees it—is perfect. Not unlike the life she recently lost.

And then she sees something shocking. It's only a minute until the train moves on, but it's enough. Now everything's changed. Unable to keep it to herself, Rachel offers what she knows to the police, and becomes inextricably entwined in what happens next, as well as in the lives of everyone involved. Has she done more harm than good?
I was told that this book was just as dark and twisting as "Gone Girl," so I figured I would love it. I'm not one to ever figure out a twist in a story before it happens, but I realized the responsible party pretty early on. From there, it was just endless pages dealing with a frustrating and drunk main character who is was such a mess I couldn't even feel empathy for her.
While no one in "Gone Girl" was likeable either, I at least respected Amy for being a calculating and brilliant stone-cold sociopath. She wasn't ruthless to save her kids or her family, she was violent and angry because she was outraged at her life and the man in it. And the entire time she was completely unapologetic about it, and that, I can respect. I never had that respect for Rachel. I can appreciate characters that aren't likable, but she just seemed pathetic. Additionally, I enjoyed that "Gone Girl" was left open ended. There wasn't a neat conclusion that wrapped it all up nicely. Instead, it ended with a whole other level of manipulation. "The Girl on the Train" did not do that. There was no ongoing element of mystery at the end.
The Rocky Mountains have cast their spell over the Courtlands, a young family from the plains taking a last summer vacation before their daughter begins college. For eighteen-year-old Caitlin, the mountains loom as the ultimate test of her runner's heart, while her parents hope that so much beauty, so much grandeur, will somehow repair a damaged marriage. But when Caitlin and her younger brother, Sean, go out for an early morning run and only Sean returns, the mountains become as terrifying as they are majestic, as suddenly this family find themselves living the kind of nightmare they've only read about in headlines or seen on TV.
Thanks to those who recommended this! I really enjoyed it. I was hooked immediately since going missing while running is a fear that hits very close home. From that point, the novel then focuses on the family and their life dealing with a child that has gone missing. Initially, I was kind of bored by these sections because as you can imagine, reading about people dealing with something so tragic is not exactly the most fun ever. Thankfully, things start bouncing back and forth between present day and the day she went missing until the pieces started to connect. Overall, I thought the story was thrilling and it kept me guessing and gripped with uncertainty until the very end. The writing was beautiful and the pacing and tension kept me thinking about it all day.
First off, I highly recommend reading this in the Kindle version or a different paperback version than the above pictured one. That printing is just over 600 pages with the tiniest type and most miniscule margins I have ever encountered. Maybe my eyes are just getting old, but it was physically difficult to get through.
In reality, I often felt stupid reading this book because there were so many complex issues that I was completely incapable of wrapping my mind around. Despite a lot of re-reading and just accepting that I would never actually understand parts of this story, I thought it was excellent. The author really strives to investigate and detail the mathematical elements of the story which makes it complicated for someone like me. Outside of the difficulty of reading about SO MUCH MATH, there is excellent insight into the character and intelligence of Alan Turing as a man as well as his life as a gay man and the consequences of that. It's certainly not light reading, but well worth the effort to learn about this remarkable man.