In honor of the Mirai Nagasu's historic triple axel last night, let's talk about another incredible American figure skater, Debi Thomas. Debi was a powerful skater in her own right, but she was also the first Black athlete to win a medal in the Winter Olympics.
Debi grew up in San Jose, California where she began skating at the age of five. She entered her first competition at nine years old and won. Her parents divorced when she was young, and she attributes her success to her mom's commitment to shuttling her over 100 miles a day between school, the ice rink, and home. In addition to driving, the cost of Debi's costumes, ice time, equipment,and  coaching was over $25,000 a year. Debi had to put her training on hold multiple times due to finances. The time and cost is why "Winter Sports are for Rich White People" is something I still absolutely to very true (ask Tonya Harding). Winter sports are not accessible for many people, and figure skating is notoriously biased and exclusive.
Debi made her first national appearance when she made the national novice finals at age 12 when she won a silver medal. Her mother let her finish eighth grade via correspondence course, but after Debi did not finish as well as hoped in the junior ladies' competition, she and her mother decided never to let skating take higher priority over her education.
Debi rose to fame when she won the U.S. national title at the 1986 World Championships. She is the first Black woman to hold the national title for ladies' singles figure skating. She was also named ABC's Wild World of Sports Athlete of the Year. Debi was one of the few female skaters of the 1980s who could complete a triple toe-triple toe combination.
While she continued to rise in the skating world, Debi was also working toward a degree in engineering at Stanford University. I cannot even imagine training as a world class athlete AND going to school for an engineering degree. HOW. She was the first woman to win the U.S. national title while attending college full-time since the 1950s. Absolutely extraordinary.
Debi experienced Achilles tendinitis in both ankles in 1987 which resulted in a second place finish at the U.S. Nationals. She recovered in time for the World Championships, but landed a close second behind Katarina Witt. Debi moved to Boulder, Colorado to focus on her training for the 1988 Winter Olympics, and in January 1988 she reclaimed her U.S. national title.
The 1988 Winter Olypmics were held in Calgary with Debi and Katarina both competing. Enter "Battle of the Carmens." Both women independently elected to skate their long programs to Georges Bizet's opera Carmen which is a now memorialized as a historic sports rivalry.
(you can watch an interview with Katarina about it here – the part about her makeup is pretty cute).
Debi went into the long program in first place, but after several mistakes, she placed fourth in that segment. In the end, Debi made the podium with a bronze medal while Katarina took gold.
With her bronze, Debi Thomas became the first Black athlete to win any medal in the Winter Olympics. That is crazy.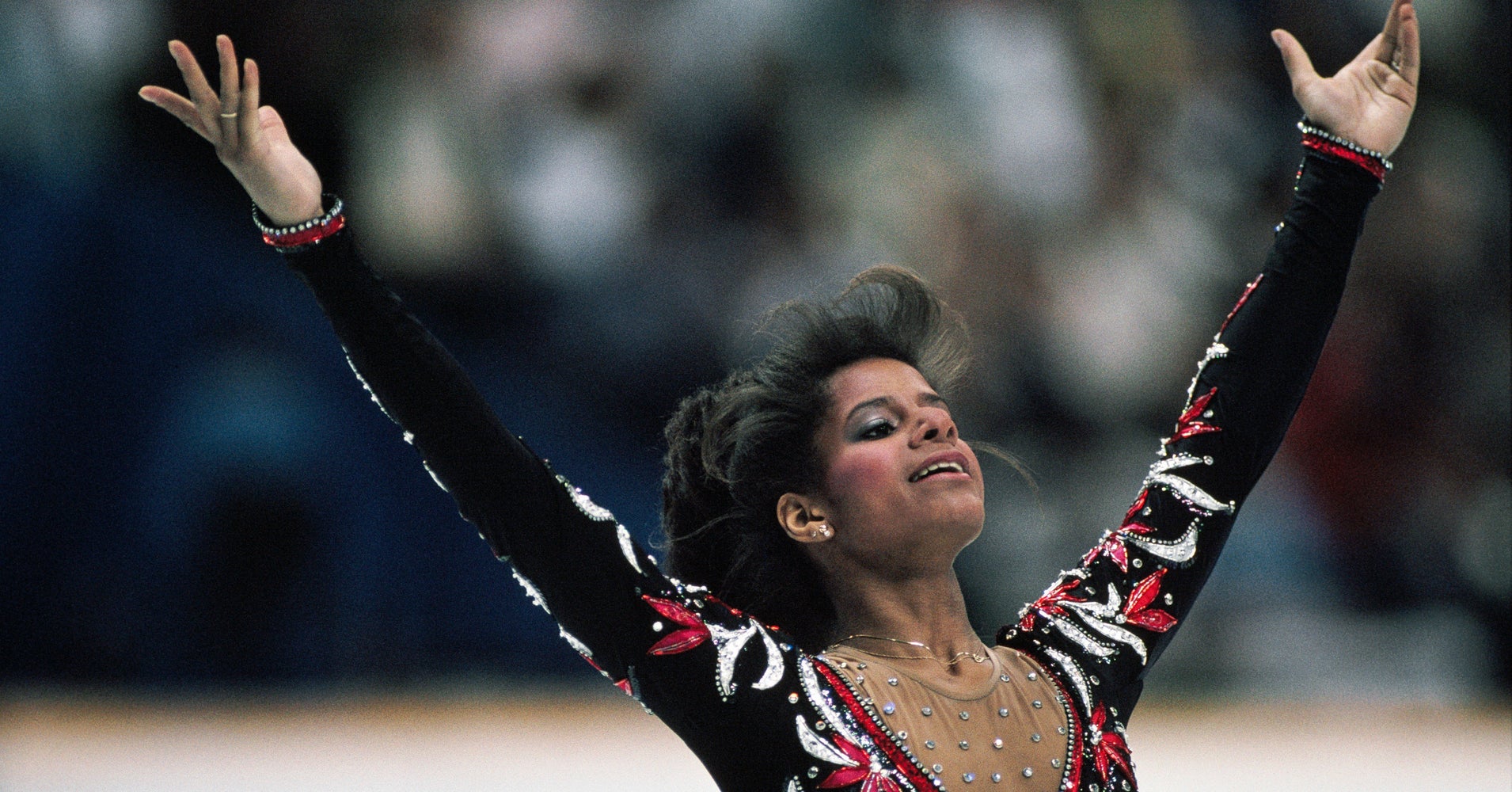 Debi went on to earn a bronze medal at 1988 World Championships, then retired from amateur skating. She won the 1988, 1989, and 1991 World Professional Championships. She was inducted into the U.S. Figure Skating Hall of Fame in 2000, and was selected by George W. Bush to be in the delegation for the Opening Ceremonies for the 2006 Winter Olympics in Turin, Italy. In 2010, she returned to the ice for "The Caesars Tribute: A Salute to the Golden Age of American Skating."
In 1989, Debi resumed her collegiate students at Stanford and graduated in 1991. She graduated from medical school in 1997, and went on to be an orthopedic surgeon specializing in knee and hip replacement.
Debi's life has taken several challenging turns over the past decade. While she was a successful surgeon with a good reputation among her patients, she never stayed at one clinic longer than a year and had difficulty working with other doctors due to her "personality." She went into private practice in a small and diminishing town in Virginia, but due to her inexperience running a business and the sparse population, she had to close her business. She has not since renewed her license.
In 2012, Debi was diagnosed with bipolar disorder. She has a son with her former husband who she lost custody of when was 13. She now lives with her fiance and his sons. In 2015, it was reported that was bankrupt and living in a bed bug-infested trailer. Debi lost all of her savings due to her two divorces and failed medical practice.
Despite her recent struggles, Debi Thomas remains the greatest African American figure skater that this country has ever seen.
Sources:
"Where are they now? Debi Thomas"
"Athletes Turn Torchbearers After the Olympics"
"The best African American figure skater in history is now bankrupt and living in a trailer"
"1988: Katarina Witt wins her second Olympic gold in thrilling 'Battle of the Carmens'"
Debi Thomas Biography