This is a general collection of reviews about products I've been using and never bothered to provide a follow up about them. I was not paid to use or write about these products, and I did not receive any of them for free, at a discount, or in exchange for a review. Several of them are items that you all kindly recommended, so I wanted to let you know how they are working out. THANK YOU to anyone who has ever recommended that I try something, I really do appreciate it. Also, at the end, I am seeking input on backpacks if you want to just skip down to that.
In June, I complained that my preferred pair of exercise underwear had gone kaput, and the company no longer made made them. Y'all recommended several different brands, so I tried several of them! As a note: I appreciate those of you who suggested Lululemon, but I don't shop there. Part of that is my personal bias toward their celebration of and tragic misunderstanding of Ayn Rand's philosophy (which doesn't seem to really jive with what I understand to be the values of the yoga community), but also their founder was a real jackass (I know that he is no longer involved). Anyway, just not a fan or Rand or Lulu.
I ordered three different styles (the Barely Bikini, Active Hipster, and Active Hipster) to try. All three were great for hiking, wearing in general, and passed the sink washing/quick drying test for future travel. I prefer the Barely Bikini for working out because they don't move at all when I'm running or lifting weights, and I never felt like they were trapping in heat. Overall, I liked all three and recommend finding the one that best fits your curves.
ExOfficio Give-N-Go Sport Mesh Bikini Brief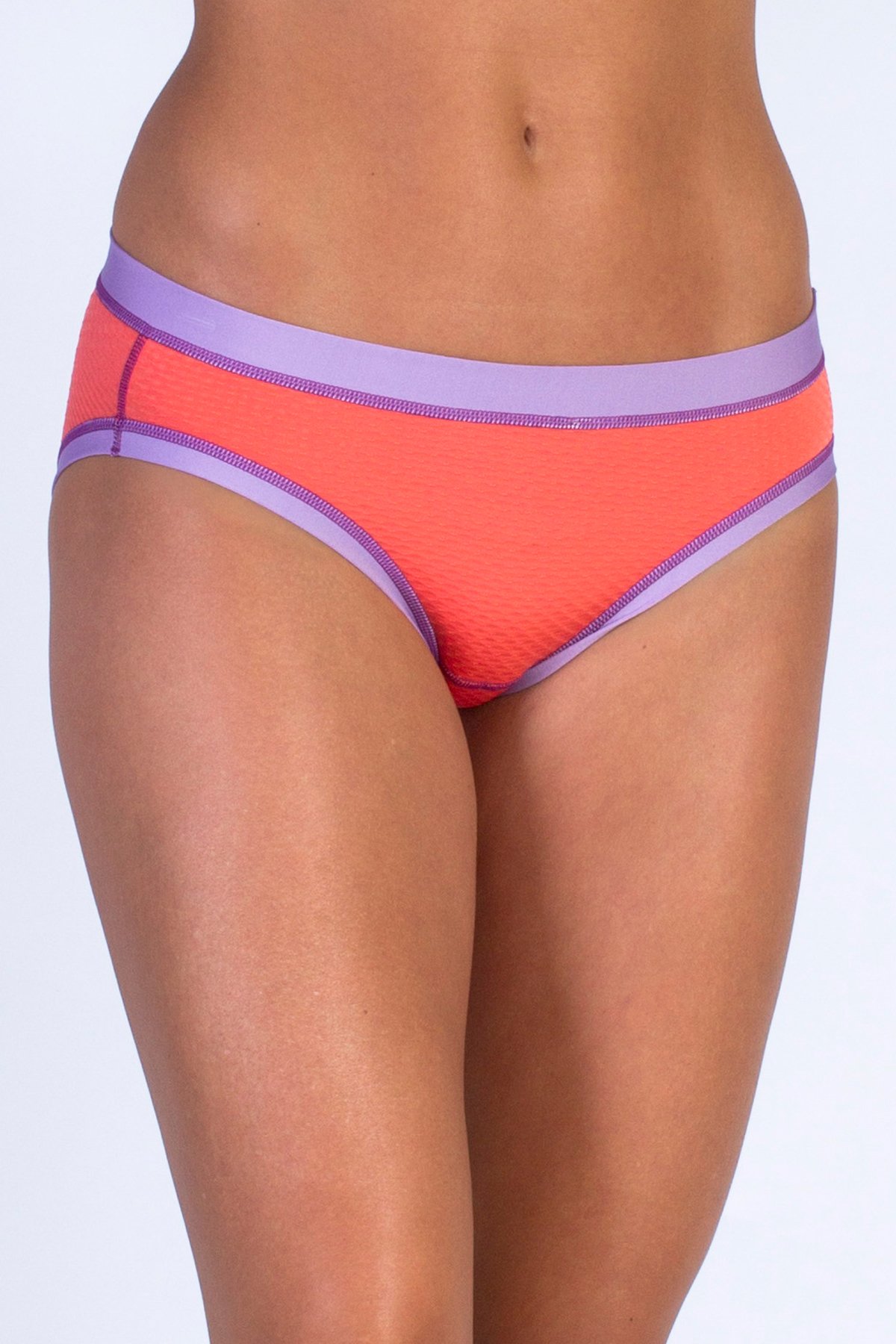 This pair was also a good fit for my body. They don't move around at all, I never get a wedgie, they dried quickly, and they didn't make me feel hotter.
These were not the right fit for my ample backside. They cut in a bit too narrow at the bottom which made them move around a lot when I was working out. Based on reviews, I ordered a size up in addition to the normal size I would wear. My normal size was so small that I could tell it wasn't going to work before I even got them past my thighs, so those went back. These might be a tiny bit too large which probably compounds the issue, but I don't have time for moving undies when I'm running.
While the undies didn't work out, I also ordered one of their bras that looked interesting and I LOVE IT. There are still plenty of shirts that I wear my normal bras with, but this one is so comfortable it's unreal. When I first put it on it was super tight, but after a few weeks it fit perfectly. It's so comfortable, it feels light, I don't feel nearly as hot in it, no wires, and there's no ugly cup seam or unwanted bulges in the back. It's expensive ($55), but I have two now and have been thrilled with them. They also have a lot of sizes.
A little less than a year ago, we cancelled our cable. I was petrified. I love my shows SO MUCH. After doing some research, I bought Amazon Fire TV for the living room since you can plug the internet cord (I don't know the proper term – sorry) from the modem directly into it. We watch the majority of our shows in the living room, so I wanted to make sure we had the fastest connection for that TV. I can honestly say that I have not missed cable at all. We bought a cheap antenna so we get some local channels in case we need the local news or to watch something live (like the Olympics), but otherwise, it has been rare that I have been frustrated that I didn't have access to something immediately.
A lot of the apps are great (Amazon Prime, HBO, Hulu, Netflix, PBS, Masterpiece, Starz, Showtime) and a lot of them suck (FX). An annoying problem that still exists is that channels like AMC don't have a subscriber option that allows people without cable to watch shows. We could buy their shows on iTunes, but iTunes doesn't have an app for Amazon, so we would have to hook a computer to the TV to watch the show which requires effort (it also costs money). The seventh season of Walking Dead is now out on Netflix, so we are finally catching up. I actually didn't miss it at all and Sari had to convince me to give the season a try. The only major negative that I see about Fire TV is if someone in the household is a big sports fan. To my knowledge, there is not yet a way to access sports on demand or live yet. Since I don't care at all about sports (except the Olympics), this doesn't impact me at all. Update: You can subscribe to ESPN through Sling TV!
I have a Prime subscription, so I always have access to that content and we pay for Netflix year round. PBS is free, and the other premium channels (HBO, STARZ, Showtime, HULU) we only subscribe to in months where there is a show that we are watching (Outlander, Game of Thrones, Handmaid's Tale). It is very easy to manage the subscriptions through Amazon.
I liked the Fire TV so much that I bought a Fire TV Stick for my room when it was on sale before Christmas. There is no monthly fee for either of the Fire TV devices which is great. We haven't had any problems subscribing to shows and watching them (Sari got a free Roku and we often can't get our subscription to connect to that device). The only thing I don't like about the stick is that the remote for the living room box is a voice remote. So, instead of spending ten minutes scrolling back and forth over a keyboard on the TV typing out My Cousin Rachel, I can just say it to the remote. I think the new Fire TV Stick comes with the voice remote, so that solves that issue. It's so handy! We also have connection issues on occasion when we have two TVs going and are on computers and/or phones. That's an internet problem, not a Fire TV issue, but something to consider.
In conclusion, I've been totally happy with the functionality and options on both devices. I can also rent movies on demand or buy them which is super handy. We have not spent more than $30 a month on app subscriptions which is significantly less than our previous $145 cable bill. Win!
Now, for backpacks.
In 2002, I purchased a North Face Borealis backpack for college. She was spacious, sturdy, and comfortable. Since then, she has been with me through three degrees and eight years of college, traveled to seven countries, visited 12 national parks, lived in five cities, and flown with me all over the place. After 15 years of service, the interior is starting to dissolve and she needs to be replaced.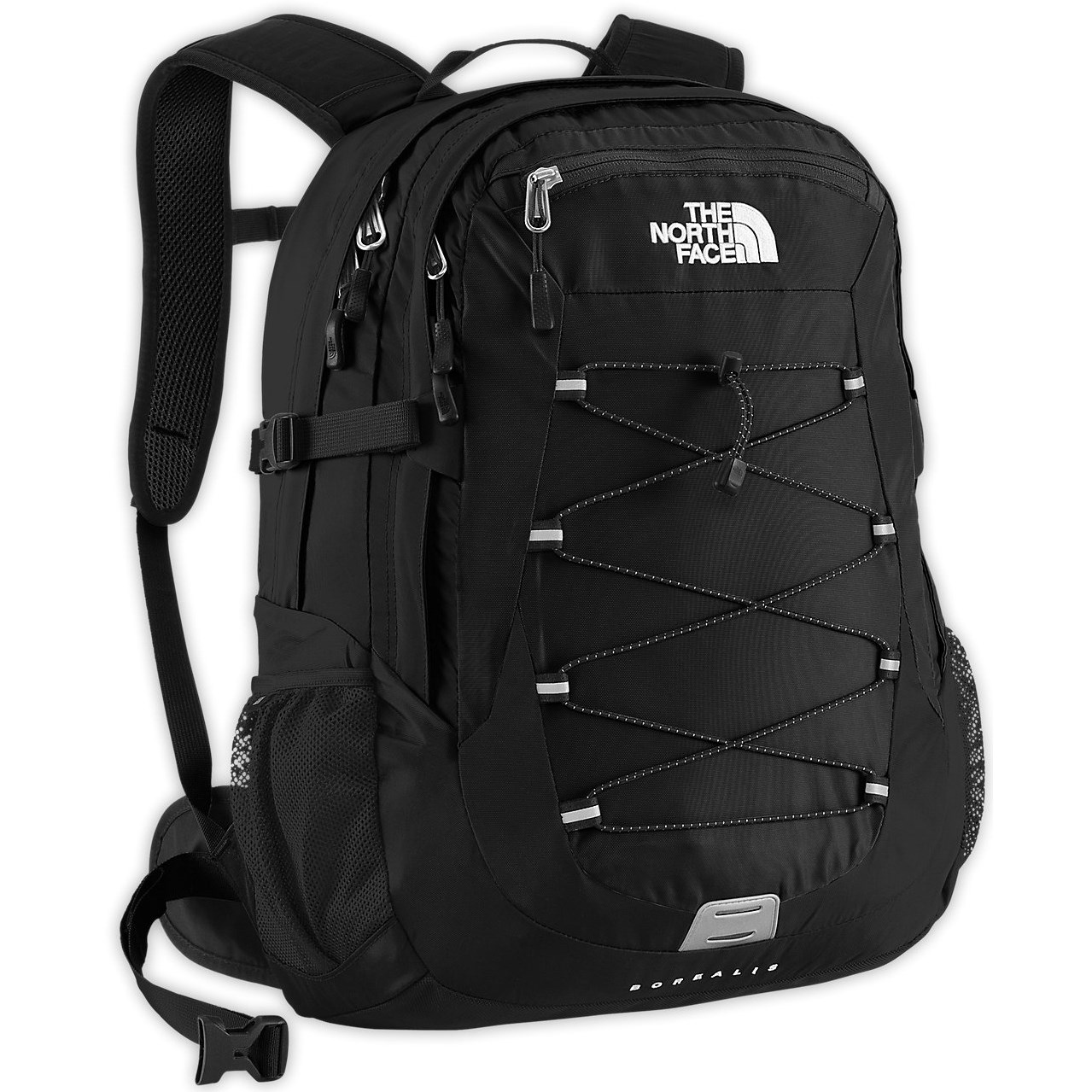 Naturally, I reordered the same backpack since this one had treated me so well. Unfortunately, when it arrived it was much smaller and had a problematic feature. If you look at the bottom left of the above picture, you will see what looks like a half circle pad sticking out. This padding protects my hips from the waist strap when I'm carrying a bunch of crap (which is always). The new Borealis doesn't have that feature:
Those straps will cut me right in two because my backpack is ALWAYS overpacked. I am looking for something that is functional for both carrying on a plane and day hikes. I need those padded hip sections! I ordered this Osprey pack, but now after looking at I don't know how convenient it will be for backpacking.
I also have issues with the straps on my big Osprey backpack because they are pretty slim which cuts into my shoulders when I'm wearing it for a long time (also, because it's always overpacked and stupid heavy). I also have the Osprey Skimmer on the way to to try out, but I am already thinking it's too small.
For all your outdoorsy folk and travelers, I would greatly appreciate any recommendations you have for backpacks.