The Seven Husbands of Evelyn Hugo by Taylor Jenkins Reid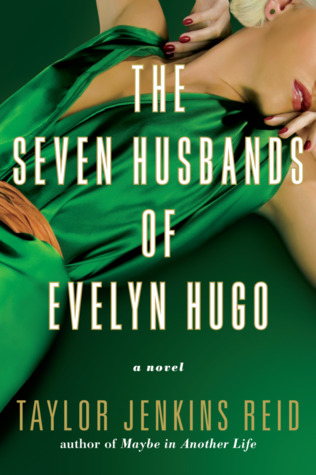 This was a quick and easy read for the summer, but I wasn't in love with it. It has an unexpected development between two characters which was lovely, but I never truly cared about anyone in the story. The characters seems to talk at each other instead of with each other which is always leaves a hollow feeling. I wanted to love it because so many people recommended it, but I never had that moment where I hated to put it down at night.
In this entrancing novel "that speaks to the Marilyn Monroe and Elizabeth Taylor in us all" (Kirkus Reviews), a legendary film actress reflects on her relentless rise to the top and the risks she took, the loves she lost, and the long-held secrets the public could never imagine.
Aging and reclusive Hollywood movie icon Evelyn Hugo is finally ready to tell the truth about her glamorous and scandalous life. But when she chooses unknown magazine reporter Monique Grant for the job, no one is more astounded than Monique herself. Why her? Why now?
Monique is not exactly on top of the world. Her husband has left her, and her professional life is going nowhere. Regardless of why Evelyn has selected her to write her biography, Monique is determined to use this opportunity to jumpstart her career.
Summoned to Evelyn's luxurious apartment, Monique listens in fascination as the actress tells her story. From making her way to Los Angeles in the 1950s to her decision to leave show business in the '80s, and, of course, the seven husbands along the way, Evelyn unspools a tale of ruthless ambition, unexpected friendship, and a great forbidden love. Monique begins to feel a very real connection to the legendary star, but as Evelyn's story near its conclusion, it becomes clear that her life intersects with Monique's own in tragic and irreversible ways.
The Women in the Castle by Jessica Shattuck
A brief synopsis:
Set at the end of World War II, in a crumbling Bavarian castle that once played host to all of German high society, a powerful and propulsive story of three widows whose lives and fates become intertwined—an affecting, shocking, and ultimately redemptive novel from the author of the New York Times Notable Book The Hazards of Good Breeding
Amid the ashes of Nazi Germany's defeat, Marianne von Lingenfels returns to the once grand castle of her husband's ancestors, an imposing stone fortress now fallen into ruin following years of war. The widow of a resistor murdered in the failed July, 20, 1944, plot to assassinate Adolf Hitler, Marianne plans to uphold the promise she made to her husband's brave conspirators: to find and protect their wives, her fellow resistance widows.
I enjoyed this novel quite a bit and I wish it had been longer with the characters better fleshed out. Even though I enjoyed it over all, I struggled to feel connected to the women and the ending felt flat. I wish there had been an actual climax or sense of urgency established at any point in the novel. Post-war Europe was such a nightmare for people, and I never truly felt that sense of desperation.
The Bat by Jo Nesbø
A few years ago when we were in France I saw an advertisement for the Inspector Harry Hole series and I couldn't handle the absurdity of that name. It is apparently pronounced something similar to "Harry Holey," but that is still RIDICULOUS. Anyway, I had not thought much about it until one of my students started haranguing me to read the series a few months ago. I was resistant, but he finally convinced me with the new trailer for The Snowman with Michael Fassbender.
Michael Fassbender ALWAYS gets my attention. Well played, student. He told me to start with the first of the series, but to be patient because the first two were his least favorite. I appreciated him tempering my expectations because I was not disappointed by The Bat. It was interesting, but not memorable. I felt like it was trying too hard to make a relationship relevant for the sake of a plot point and a lot of the story telling was stilted by the translation. It seemed like too much unnecessarily meandering coupled with other parts that were so erratically paced that I didn't realize something significant had even transpired until pages later.