My weekend evaporated quickly thanks to work. I thought something would take me a few hours to do on Saturday, but instead it took most of Saturday and all of Sunday. And I'm still not done because the more I work on it the more of a kerfuffle it becomes. There is a lot of conflicting data across multiple documents and I AM PISSED (There are EIGHT different numbers alone for tenure density. EIGHT. HOW.).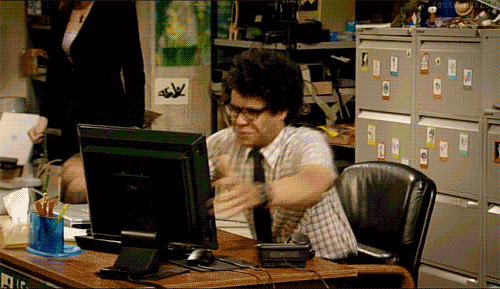 In happier news, I did get to enjoy my first post-Whole30 meal on Saturday night. I went to dinner with my friends at Sauced. I think it is a chain BBQ place, but the brisket was pretty good considering. It was a leaner cut than I prefer, but it was still moist enough. It is no Texas barbecue by any means, but it's the best I've had in California, so that is something.
They had a whole bunch of cheesy items that I REALLY wanted to gobble up, but I abstained and stuck to a beer and a piece of cornbread as my non-compliant foods. They could use a cornbread lesson (it was that blasted cakey kind), but it was better than no cornbread at all. After dinner we went to Jackrabbit Brewing Company for some more beer. I started with a flight and they had a really tasty Belgian Quad (I have zero idea what this means, but that is how the bartender described it) and I will definitely go there again. Monk Belly 4-Eva.
It was a lot of fun and the place closed by 9, so we all made it home in time to be asleep by 10. A perfect evening.
I also made it to Orange Theory on Friday and on Saturday. I was very proud going two days in a row. Friday's workout went really well, but I thought I was going to die on Saturday. I really struggle with the "strength" days. Well, I really struggle on all of the days, but I SUPER struggle on strength day.
I also ate it while using the ab dolly. I just cannot figure out how to coordinate that movement without making it buck forward and causing me to fall. And when I put my feet back further, then if flips up the opposite way. HOW.
In the most important news – TV news – I am finally caught on The Tunnel. I started watching the first season a few weeks ago and HOLY MOLY I LOVE IT.
I am watching it on the PBS Masterpiece app on my FireTV, so I'm not sure where else it's available, but it is excellent. I didn't realize the second season was currently airing on PBS, so I was really bummed when I realized I couldn't watch past the fourth episode. I love the combo of Fleur Delacouer and Stannis Baratheon. Elise (Fleur Delacouer ) is perfectly awkward (I do deeply relate to some of the accidentally rude things she says in the name of directness) and my Stephen Dillane crush is now officially out of control.
I also personally enjoy Olivier's style transformation from schlub to chic wearer of turtlenecks and blazers. Much elegance. Such French. Anyway, are any of you watching it??
LESS THAN A WEEK UNTIL GoT!!!!!!!!!!!!!!!!!!!!!!!!!!!!!!!