When I last wrote one of these I totally forgot to include Rich People Problems! THE HORROR. I've finished a couple more books over the last few weeks, so here you go!
Rich People Problems by Kevin Kwan
Just in case you recently arrived from the moon, it should be obvious by now that I LOVE the Crazy Rich Asians series and that I am SO EXCITED for the movie. I loved this book almost as much as Crazy Rich Asians and it was just as charming, funny, and ridiculous. I'm so thankful to not live under the shadow of extreme wealth (I wouldn't mind some moderate wealth), but it was fun to dive into that world for a while. I really don't want theses stories to end, but I am excited to see what Kwan writes about next.
Hunger: A Memoir of (My) Body by Roxane Gay
"This is a memoir of (my) body because, more often than not, stories of bodies like mine are ignored or dismissed or derided. People see bodies like mine and make their assumptions. They think they know the why of my body. They do not."
This was a difficult and uncomfortable read. I've never weighed 500 pounds. I've never had trouble fitting in a chair or getting through a doorway. I don't know what that feels like, but I do remember what it's like to eat to hide yourself from people. And to feel defined by a body that doesn't look or work the way you believe it should. It was unflinching and honest, and I appreciated how often she acknowledged the privileges and opportunities that she has had despite the truly terrible things she has lived through.
The entire book felt like a dear friend confessing their ugliest and hardest truths. I couldn't put it down and it has certainly caused me to reevaluate if I am doing things to make people like Roxane feel uncomfortable or unwelcome. And if I truly spend enough time ensuring that activities with my friends are inclusive and considerate of their size and ability. There were parts that felt overly repetitive, and it certainly won't be everyone's cup of tea, but I thought it was a worthy read.
Into the Water by Paula Hawkins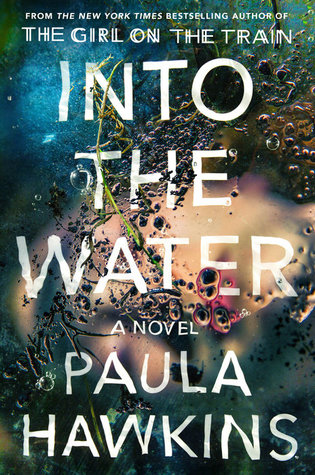 I shouldn't have read this and I don't know why I did (oh yeah, Heather brought a bag of books to let us borrow) because I did not enjoy The Girl on the Train at all.
A single mother turns up dead at the bottom of the river that runs through town. Earlier in the summer, a vulnerable teenage girl met the same fate. They are not the first women lost to these dark waters, but their deaths disturb the river and its history, dredging up secrets long submerged.

Left behind is a lonely fifteen-year-old girl. Parentless and friendless, she now finds herself in the care of her mother's sister, a fearful stranger who has been dragged back to the place she deliberately ran from—a place to which she vowed she'd never return.

With the same propulsive writing and acute understanding of human instincts that captivated millions of readers around the world in her explosive debut thriller, The Girl on the Train, Paula Hawkins delivers an urgent, twisting, deeply satisfying read that hinges on the deceptiveness of emotion and memory, as well as the devastating ways that the past can reach a long arm into the present.
I initially read something somewhere about it in which they used the term "troublesome women" and I thought that could be an interesting tale (especially now that we are living in the time of truly troublesome women – Hillary Clinton, Maxine Waters, Elizabeth Warren, Kamala Harris, and apparently Mika Brzezinski). If only these lades would shut their mouths and go back home, bake some cookies, and focus on being pretty. AS GOD AND THE GOP INTENDED.
Anyway, this book made me appreciate The Girl on the Train because at least I could feel something for the main character. There were so many narrators in this book that I often lost track, I never grew to care about any of them, and they were all so boring. I never felt suspense over the drownings, the story itself was unnecessarily convoluted, and the ending was painfully unexciting. As I've said before, it takes a painfully obvious set up for me to solve the mystery before it is revealed.