I got to Orange Theory (OTF) early the other night and there was a new lady getting checked in. The trainer was going through some questions with her in order to assess her fitness level before giving her an orientation on the equipment. The woman haughtily announced that she works with a private trainer three days a week and they do "everything," so she doubted that OTF would be challenging for her and she already knew how to do everything. She was only there because her friend "begged her to go with her." She was being condescending and snotty to the trainer, so I immediately wished bad things upon her because I'm a cruel and petty person.
She was also in full makeup with her hair down which is baffling in itself. HOW DO YOU EXERCISE WITH YOUR HAIR DOWN??? And doesn't your skin feel disgusting with your makeup melting down it?? I know I'm a sweaty lady, but there is NO ONE in those OTF classes who isn't drenched by the time it's over. I've talked about this before, but I don't understand how someone can exercise with their hair just bouncing around everywhere. A single tiny piece that comes out of a bobby pin can drive me batshit in .002 seconds. How can you stand it??
Anyway, we started the class and it was a tornado workout. We spent a few minutes at each station (treadmill, weights, rower), then switched. Over and over for an hour. It was constant movement and it was hard. Much to my delight, around the 20 minutes mark Ms. Fitness America was laying on the floor gasping for breath. Then after 30 minutes she left the studio and sat outside until it was over.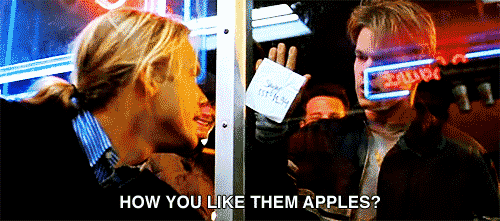 It filled me with glee that it was so hard for her. It is hard. That is the point. Anyway, I know it's totally mean to revel in someone else's misery, but don't be a jerk.
Alan has really settled into his new life. I thought he was such a friendly and low-key fella, but I am now seeing the real Alan. He clearly went to the Bardot school of being a punk. I am doomed to owning bitchy pets in poor health. He bit my chin the other night because I dared to break eye contact with him while I was petting him. He bites my leg when I don't immediately pet him when he lays down. He currently enjoys crawling up on my headboard, then launching all 16 pounds of his fat body down on me while I am asleep. And he keeps trying to eat my phone charging cord. I love him, but he's being a pill.
I usually keep his food bowl full because, unlike Bardot, he casually munches throughout the day and doesn't feel the need to frantically gobble up every single food that exists all at once. He looked like he had plenty of food when I went to bed the other night, but I guess he got hungry and ate it all. Around 3 am I heard the loud clanging of metal on metal. I turned on my lamp and good ol' Alan was just sitting there popping his metal bowl up with his paw and letting it clang back down in it's metal holder. While staring at me. I'm not sure about this cat. He was also diagnosed with an upper respiratory infection which means I get to shove pills down his throat which is not good for any of us. Have you ever heard a cat cough? It is weird.
For the sake of those who lost loved ones at Sandy Hook, please do not watch Megyn Kelly's interview with Alex Jones. He is a monster and an opportunist. Trump has already given this idiot too much attention, but I hope that by not watching then we can make sure that NBC's desperate and disgusting ploy for ratings fails.
Additionally, Alex Jones, the degree to which you are attracted to her and your perception of her femininity have nothing to do with her job. Gross.