My blog was hacked this weekend and everything was deleted, so bear with me as I try to fix everything. In the meantime, see below for a chance to win some money!
As with most humans with boobs, I have spent much of my time since middle school (let's be honest – high school…) trying to find bras that don't make me miserable. For a long time I bought cheap bras, but they quickly fell apart or looked horrible and the wasted money made me angry. With the huge popularity of PINK during my later college years, I shifted to Victoria's Secret, but they also didn't last too long (considering the price). They too became misshapen or tried to murder me with a quick shank from some underwire escaping into a lung. Eventually, I gave up and looked elsewhere for a solution. I eventually stumbled upon Vanity Fair® bras at Macy's and I have been a satisfied customer ever since. The point where the underwire meets in the middle does not press against my sternum in a way that makes me want to rip it off and shred it in a manic rage. I mostly forget to lay them out after washing (because I can't have nice things) and end up drying them, yet they have retained their shape and color perfectly. I like that they don't do that awful thing when the top edge of the cup starts to curve outward and in all of the years I have worn them, I have never had an underwire break through the fabric and stab me. I stay safe and the ladies stay up where they should be.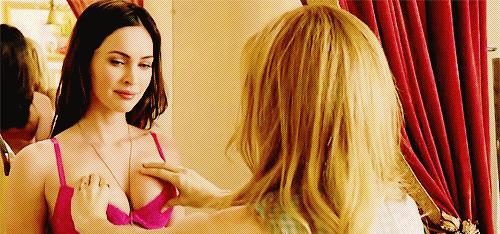 The reason I overshare this personal information is because Vanity Fair® has recently launched a new campaign called "For Women Who Do" and I elected to participate. The "Women Who Do" initiative is a powerfully uplifting campaign dedicated to praising and celebrating everyday triumphs of women everywhere while highlighting the brand's long-standing commitment to producing quality, luxurious lingerie at an affordable price-point. Ultimately, Vanity Fair hopes to spark a movement that inspires women to support each other and live their lives according to what makes them happy.
It wasn't until I went to Macy's that I was even properly fitted for a bra. I thought I was a 36B, but it turns out that I was a 34C. It made a significant difference in the comfort level with my bra and how I looked in clothes. You can get fitted (or re-fitted) with the Vanity Fair® LiftTour which started on July 17, 2014. Vanity Fair® and Dress for Success kicked off the national LiftTOUR – a nationwide bus tour with a focus on fit and philanthropy. The LiftTOUR will travel across the country conducting bra fittings at major retail locations, and for every woman fit, Vanity Fair® will donate a brand-new bra to the local Dress for Success Affiliate. Between July and the end of October, the LiftTOUR will plan to stop at 70 different locations in 12 major U.S. markets.
So you get a free fitting a woman in need gets a nice and new bra through the Dress for Success program. Dress for Success® – an organization dedicated to promoting the economic independence of disadvantaged women by providing professional attire, career development tools and a network of support– noticed a need for more intimate apparel to provide its clients. Vanity Fair® saw a welcome opportunity to lend its expertise, resources and extensive product offering to help replenish the lingerie of the non-profit organization. Through this partnership, Vanity Fair® hopes to provide women with the support they need to be successful.
Yes. I cannot imagine how difficult it would be secure a decent job without some professional attire. As part of the campaign, Vanity Fair® sent me one of their bras from their new line in a lovely shade called "steele violet" (purplish gray, I will love you forever). I will spare you the photo of me in it, but this is the one I have and I adore it already:
The new line comes in a variety of shades including new colors for the fall. I don't have anyone to show my bra to (except for Bardot of course), but I appreciate the pretty colors. Or, maybe one day I will just channel Regina George and show the world:
I have a new bra and I want you to know it!
For 100 years, Vanity Fair® lingerie has been the brand that women look to for undeniable support, lift and a little bit of luxury. Making style and comfort effortless for every woman, Vanity Fair offers feminine and beautiful lingerie available in styles that are trend-right and feature sleek fabrics with clean lines for a smooth look under clothes. With sophisticated color palettes and minimalistic prints, Vanity Fair® bras and panties are great for everyday wear.
Your can find out more about Vanity Fair® on their website, Instagram, Facebook, Twitter, Pinterest, and YouTube account.
And, because I know you bitches love money, there's a chance to win $100 from Vanity Fair® by answering the following question: What do you support? Tell me in the comments for a chance to win a $100 Visa gift card.
Good luck and be kind to your ladies!
Sweepstakes Rules:
No duplicate comments.
You may receive (2) total entries by selecting from the following entry methods:
Leave a comment in response to the sweepstakes prompt on this post
Tweet (public message) about this promotion; including exactly the following unique term in your tweet message: "#SweepstakesEntry"; and leave the URL to that tweet in a comment on this post
Blog about this promotion, including a disclosure that you are receiving a sweepstakes entry in exchange for writing the blog post, and leave the URL to that post in a comment on this post
For those with no Twitter or blog, read the official rules to learn about an alternate form of entry.
This giveaway is open to US Residents age 18 or older. Winners will be selected via random draw, and will be notified by e-mail. The notification email will come directly from BlogHer via the sweeps@blogher email address. You will have 72 hours to respond; otherwise a new winner will be selected.
The Official Rules are available here.
This sweepstakes runs from 9/8 -10/19/2014.
Be sure to visit the Vanity Fair brand page on BlogHer.com where you can read other bloggers' posts!