As I mentioned last week, the students in my group are leaving the nest and flying off into the world. As such, we started setting up interviews with potential new students this week. My student assistant and I were APPALLED by how many students were rude as hell when they answered their phones. One girl just said "What?" and sat there silently. Another guy answered with an "Ugh, who is this?" CHILDREN. Learn phone skills. Naturally, everybody got real professional real quick once I explained why I was calling, but please teach your young people how to answer the phone – especially if they are applying for something. "What?" is never acceptable.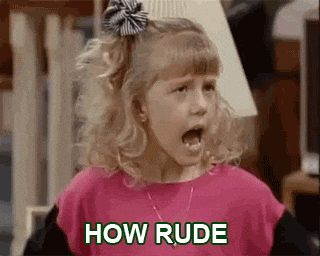 If you aren't already, then I absolutely encourage you to follow Dan Rather on Facebook. He provides excellently measured and thoughtful responses to the bananas political environment we are living in.
I cannot imagine how difficult it would be to work for someone who goes to Twitter to brag about something after you've spent half a day denying it happened.
Those first two statements are not sentences and you put the wrong thing in parenthesis, you twit. I don't typically advocate for grammar and English shaming, but there is no excuse for him. He had access to and received an excellent education. Also, he has infinite resources available to help him make statements that aren't a word salad (what if Sarah Palin is really the author of this nonsense!?!).
'TIS YOU WHO ARE THE LEAKER, YA ORANGE BITCHMUFFIN!!
I've also had several Republicans friends try to triumph in this situation by claiming that I wasn't mad when Hillary did it. These are not the same situations. The drama surrounding Hillary's use of a private email server for classified information (which was retroactively labeled as such) was all based on what MIGHT have happened if it had gotten out. MIGHT have happened. Donald just straight up gave it away. 
It's just so infuriating (though not surprising ) to see Trump blatantly doing exactly what he insisted was wrong with Hillary: mishandling classified information and putting American interests behind foreign ones.
Additionally, people still insist on telling me to give Trump a chance and that the people who voted for him aren't bad people. Well, I counted that the below image was shared by 38 different people on my Facebook over the weekend. Approximately half are from my small hometown, so that's not really surprising that they would exist in the same cesspool of hate and nonsense, but the rest are people who are in no way connected to anyone else I know.
You know who the scumbags are? People who put a man in office who makes them believe that this is funny.
I HATE EVERYTHING.