Last month, Katy suggested adding women to the Monday rotation to celebrate their accomplishments. I loved that idea, so here we go! Let's start with Amelia Jenks Bloomer – a woman who fought for our right to be comfortable in our clothes!
I did a report on her when I was in third grade because comfortable britches has always been a priority around here.
Amelia was born in New York in 1818. She married in 1840 and was encouraged by her husband to write on social issues for his newspaper, Seneca Falls Country Courier. What a gem he was! She attended the First Women's Rights Convention in 1848 in Seneca Falls, and the next year she created The Lily (a temperance newspaper).  Her mission: "It is woman that speaks through The Lily. It is upon an important subject, too, that she comes before the public to be heard. Intemperance is the great foe to her peace and happiness."
Despite its initial goal to be a local newsletter for "home distribution," The Lily eventually had a circulation of over 4,000. Initially the paper was "Published by a committee of ladies," but after 1850 only Bloomer's name was listed as publisher. She is considered the first woman to operate, edit, and own a news publication for women.
With the support of Elizabeth Cady Stanton, The Lily expanded its primary focus on temperance to include other topics such as child-bearing, education, and other issues surrounding women's rights. Stanton was a significant influence on Bloomer (CAN YOU EVEN IMAGINE???), and Amelia wrote more frequently about the unfairness of laws toward women and demanded reform.
One of which was women's dress reform. Amelia pushed for women to adopt new clothing styles that did not require the misery of a corset or multiple petticoats. She advocated for looser tops and skirts that didn't pass the knees to be worn with a pair of pants under them. This horrid 2002 version was my first thought:
Below is Elizabeth Smith Miller (another badass lady) who began to wear the outfit after seeing the style during a trip to Europe. Elizabeth Cady Stanton also took to wearing the style after seeing it on Miller. The bloomer style really took off after Amelia began enthusiastically promoting it in The Lily. Bloomer refused to take credit for the idea, but the name of "bloomers" stuck for the style of pant.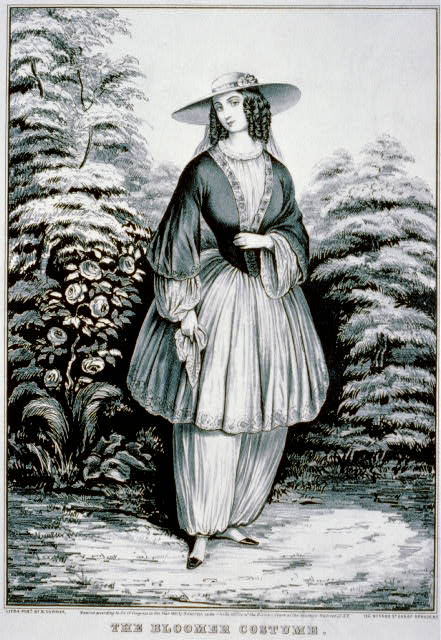 Raise your hand if you wore bloomers when you were little.
If so, what part of the South are you from?
Amelia's idea was so popular that she reported the following: "As soon as it became known that I was wearing the new dress, letters came pouring in upon me by the hundreds from women all over the country making inquiries about the dress and asking for patterns—showing how ready and anxious women were to throw off the burden of long, heavy skirts." I CAN IMAGINE. I get cranky when I have to a wear a nice dress for just a couple of hours. I cannot imagine this much material on my body. I would FREAK OUT.
Unfortunately, the press attention was so negative regarding the bloomer outfits that the style was ultimately abandoned. Amelia once noted, "I stood amazed at the furor I had unwittingly caused." I wonder if she tweet whined about it though?
The Lily continued to gain subscribers after the bloomer scandal, and it eventually reached a national circulation of over 6,000. She moved to Ohio in 1853 and continued to edit the paper. She eventually sold The Lily in 1854 when she moved to an area of Iowa where there were no publishing facilities available. Despite selling, she continued to write on the women's political and social topics of the day and was a contributing editor for the The Lily for two years after the sale. She was so significantly involved in the women's suffrage movement in Ohio that she is credited with helping secure the women's vote there. She also led suffrage campaigns in Nebraska and Iowa, and served as the Iowa Woman Suffrage Associate president from 1871-1873.
Of additional significant importance, Bloomer introduced Elizabeth Cady Stanton to Susan B. Anthony in May 1851 (TO BE A BEE IN THAT AIR). It was such an important moment in the women's suffrage movement that the meeting is now commemorated with a statue in Seneca Falls.
LOOK AT THOSE BLOOMERS!!!
Amelia Bloomer is remembered for her efforts in making women's fashion less constricting, fighting for the vote, and her journalism. She was inducted into the Iowa Women's Hall of Fame in 1975 and her home in Seneca Falls is listed on the National Register of Historic Places.
In 2002, the American Library Associated created the Amelia Bloomer Project in her honor. The Project produces an annual list honoring children's books with feminist themes. These lists are a great resource if you're looking for feminist books for yourself or the young people in your life.
What a badass outfit and pose!
Of relevance: "Why must women still choose between beauty and function in clothing?"
Sources:
Amelia Bloomer Project
Atlas Obscura
Biography
Encyclopedia Britannica
Women's Rights National Historic Park