On Tuesday night, the conference held their big event at the History Museum of Mobile. They had a large buffet of gulf specialties such as shrimp and grits, gumbo (not gumbalaya), jambalaya, fried shrimp, fried oysters, fried crab claws, and fried green tomatoes. I tried it all.
I have an appointment with a cardiac surgeon to clean out my arteries next week. It was worth it.
The food was great even though they only had tiny dessert plates available to put it on. They might have thought that those would keep people restricted to reasonable portions, but I wasn't the only one trying to balance three tiny plates and walk at the same time. After eating, my coworker and I checked out the actual museum.
I cannot imagine what a nightmare it must be for a museum director to have people not only eating in the museum, but also partying with an open bar. He was very nice and I had the opportunity to visit with him at several points while I was looking around, but bless his heart. That must have been a terrifying evening.
Before visiting Mobile, I had no idea that it was the original home of Mardi Gras. I've never been to Mardi Gras, so I know almost nothing about it in general, so I was quite excited about the extensive historical information available.
I thought the most interesting part of it was the information about the mystic societies in Mobile. The secret societies are Mardi Gras social organizations that host balls for their members and participate in the parades. I want to go to a ball. I need to move to Mobile and make some classy friends.
I also need a magnificent jewel-encrusted robe.
The museum also featured a significant amount of information about their participation in the Civil War and their maritime history. The flag from Harper's Ferry:
How terrible would it be to be the manpower in a Civil War submarine. No thank you.
They also had a traveling collection from Alabama artist Roderick Mackenzie. He traveled to India in 1893 and there was an entire room of his photographs, drawings, and paintings.
Oh and this dinky little thing:
I'll take two.
The other awesome part of the museum was the dollhouse collection. Dollhouses give me the creeps in many ways, but these were nothing short of magnificent.
I really enjoyed this scandalous bathroom art:
Sexual.
After seeing most of the museum, we joined the dance party. It was nuts. The conference was the southern sector of our national organization, so it was a solid mix of people who had truly incredible dance moves and the rest of us who were dorks with wine. Two lovely gentlemen reenacted Katy Perry on her giant cat thing at the Super Bowl.
I danced for hours in my cardigan because go dorky or go home.
We had an awesome time.
They even hired members of the famed Mobile Excelsior Band (you can see my video here) which was fabulous because we got a tiny taste of Mardi Gras since we missed the parades.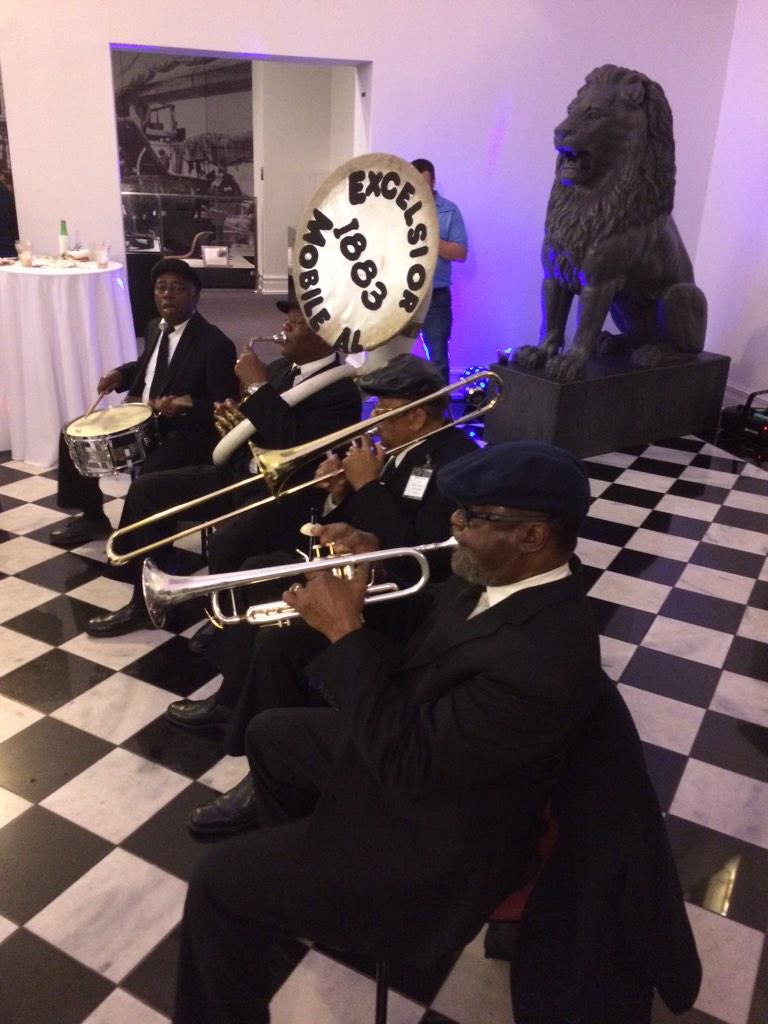 They were terrific.
On Wednesday we wrapped up our final meetings and headed to Panini Pete's for our last greasy meal of the trip. Best panini of my life.
We walked around and managed to see a little bit of the historical downtown area, but not much. I wish had more time to explore, but I guess that means I just need to go back.
Then we flew back to Texas and spent two hours sitting on the runway in Houston thanks to a busted oxygen tank. Thank God for good books.
Also, look what I found for you Grace!