I spent my weekend feeling ill while watching Harvey dump trillions of water on southeast Texas. My friends and family are still okay thankfully, but what a nightmare. I am so grateful for all of the courageous people out there in their boats who are voluntarily putting themselves in dangerous situations to help others. The Daily Mail actually has pictures that show the true devastation as you slide between before and after the flood.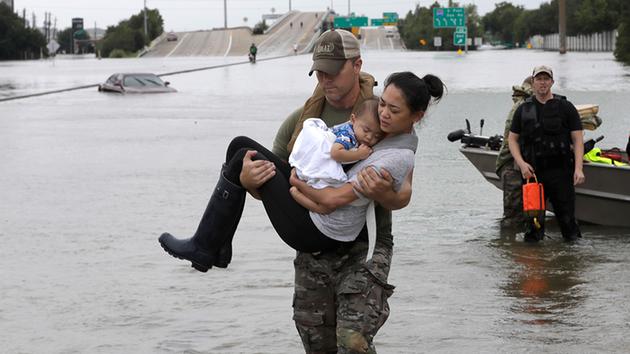 Houston Police SWAT officer Daryl Hudeck carries Catherine Pham and her son Aiden after rescuing them from their home surrounded by floodwaters from Tropical Storm Harvey. (AP Photo/David J. Phillip)
I wish it didn't take these kinds of disasters for us to come together and help each other regardless of race, religion, or immigration status. This disaster is going to take years to recover from and I hope that as a nation we can continue support the people of this devastated region.
Here are some ways that you can help. I am donating to Austin Pets Alive because they are a great organization who is already at constant capacity with rescued animals. Imaging having to leave your home under these kinds of circumstances is nightmare enough, but I cannot fathom having to part with a pet to do so. The SPCA of Texas and Austin Pets Alive are assisting with pet evacuations and housing for animals that can't go into the shelters with their owners. If you live in the area, you can also take in pets to foster until they are able to be reunited with their owners.

(source)
That picture is devastating and it gives me tears every time I see it.
I would also like to take a second to chat about evacuations. "Why didn't they evacuate?" is the number one thing that people here have asked me as Harvey pours trillions of water onto Houston and the surrounding communities. Have you personally tried to evaluate a metropolitan area where over six million people live? Two and a half million is Houston proper, but there are millions more who live in the surrounding suburbs who also have to go. If you were in Texas during Hurricane Rita in 2005, then you will remember the absolute nightmare shitshow that evacuation was. I had friends who sat in their cars on freeways for over 25 hours. Some of those friends sat on highways that are now completely submerged. How is that a better situation? Two days is not enough time to get that many people safely away. And the Rita evacuation was less than three million people trying to leave.
There's no good solution for this kind of situation because people are in danger no matter what. Harvey's trajectory was hard to predict. It escalated from Tropical Storm to Hurricane in less than 24 hours. Then became a Cat 4 in what felt like 4 minutes. Houston is flat. It floods all the time. With Gulf temperatures rising and the danger of massive storms increasing, at some point we have to confront the problem with the ongoing growth and development of these giant cities in high-risk flood and storm areas. We are not building any kind of infrastructure to confront flooding issues, so how many billions do we invest in rebuilding cities that are in terrible and dangerous locations? I say this as someone who recognizes why people live in Houston (and other coastal cities) and why they love it. I totally get it, but we've got a problem here that isn't going away.
Anyway, thank you to everyone who is helping. I have friends and family there and so many people have showed up to get them to safety.
I didn't do much other than watching the flood coverage while working in the office this weekend. I went to Orange Theory on Saturday and Sunday morning, so I felt pretty proud about that. I also watched Game of Thrones on Sunday night with friends and GOOD GRIEF that was a lot to digest.
SPOILERS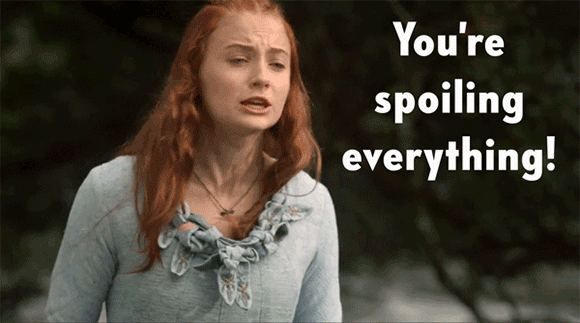 IS TORMUND OKAY OR WHAT???
Ugh. Aegon is a boring name and didn't Rhaegar already have an Aegon? This is silliness.
Rhaegar looked way too much like Viserys. ICK.
I am having trouble like Lyanna because the actress who plays her was also that little idiot Katie in The Fall. She was THE WORST.
Bronn is the best.
They should not have let Qyburn take that hand.
Was that some flirting coming from the Hound when he was chatting up with Brienne? I am totally down with her being a hottest commodity in Westeros.
HOLY SHIT.

So, Tormund, is he okay or what?
As Eric said last night, "Have the Whitewalkers just been waiting a thousand years for someone dumb enough to bring a dragon over the wall?"
Also, this is a wight dragon, not an ice dragon. Ice dragons breathe icy cold destruction, not fire (an ice dragon wouldn't have melted the wall).
Was the entire point of that stupid raid just to get the Whitewalkers a dragon? Because, that makes me mad.
I also think Beric has a super sexy voice (the main reason I kept watching Fortitude after I stopped enjoying it – Richard Dormer is great with words), so I need him to stay around also.
I did not see the Littlefinger twist coming, BUT HELL YES STARK LADIES. I am so glad his end came at the hands of a Stark woman.

I wonder how many times Gilly had to tell Sam about the wedding before he heard her?
When are Bran and Sam going to make this Targaryen announcement?
Dany is going to flip her dragon shit when she learns that she's not the proper heir to the throne anymore.
The best part of the episode was Jorah pathetically trying to convince Dany not to ride on Jon's love boat.
Ugh I hate that she and Jon hooked up.
And OMG Tyrion loves Dany and I WANTED TO CRY when I saw his face outside her bedroom. I didn't see that at all until that moment. No wonder he was willing to confront Cersei for her. This can't end well.
I am so glad Jamie finally stood up to Cersei. Now find Brienne, and get the hell out of dodge!
Cersei – the worst.
Jon, sometimes you have to lie for the greater good (as I tell myself daily).
What does the Night King want? I need more info on him and what his deal is. TO WHAT END, GOOD SIR?
What if all of this is just to have an ending shot of the Night King on the Iron Throne? All of these machinations would have been for NOTHING. A true testament to how all of our human drama really doesn't matter in the end.
Leslie Jones continues to be a national treasure. I'm going to miss her GoT tweets so much! How are we to wait a year and a half???
Hey neo nazis come to the wall want to see something real quick!! pic.twitter.com/8SQveVgnuh

— Leslie Jones (@Lesdoggg) August 28, 2017