This weekend was wonderful and I still feel so happy from it. On Saturday, I got to meet up with first best friend, Joby, and her new husband in Napa Valley. Joby and I met in preschool, and were inseparable (along with Stevi) through high school graduation.
And, like many friendships after high school, we drifted apart for reasons that were dumb and that we can't fully remember. She lives in Colorado now, and for the past few years we have been trying to reconnect and rebuild our friendship. Her husband travels to the Bay Area for work frequently, but since it's mostly during weekdays, I have not been able to take off to visit. Thankfully, this past week they decided they would extend their stay and visit wine country on the weekend, so I got to hang out with them at long last!
We started the day with lunch at Bouchon Bistro in Yountville. I ate there on our first trip to Napa in 2015, and it was just as wonderful the second time around. I forgot I ordered mussels on our first trip, and I ordered them again (they were still FANTASTIC), so at least I'm consistent. I wouldn't want to branch out or anything. They're steamed in a saffron, mustard, and white wine broth that I just want to be embalmed with. It was so wonderful. It was all I could do to not pick up the dish and just drink it.
(source)
Our first wine tasting was at Silver Oak Cellars. We  tasted three different Cabernet varietals (I am not sure that is the right word, but I am going with it), and my favorite was the Napa Valley Cabernet.

It was pouring down rain, so we weren't able to walk around and check out the winery grounds, but the inside was very pretty.
Our next stop was V. Sattui where we tried a few wines, then bought some cheese and bread to snack on. They really have the BEST cheese selections, so I highly recommend popping by if you're in the area. I picked a truffled brie that was MAGICAL. I don't always enjoy the flavor of truffles (I'm low classy, I know), but they tasted great with brie. Joby also got a brie selection which is a perfect tribute to our history. We used to walk to HEB from her house (she lived in town which made walking anywhere seem very cool) and buy brie to eat while laying around watching Daria (my inspiration for life) and My So-Called Life on VHS. Brie was a fun trip down memory lane for us. We were  very much wannabe emo teens (turns out I'm just pissy, not actually culturally emo).
Her husband picked a really tasty jalapeno muenster which was an unexpected delight. Joby's husband has been to wine country a lot, and he took us to one of his favorite places, Vincent Arroyo Winery.  It is now one of my favorite places, too.
We didn't have a reservation (which are required), but they still squeezed us in which was kind. It was a rustic building and super low-key which was lovely. I often feel like a potato peasant in wine country because many people are so well0dressed and the wineries are so pretty, but Vincent Arroyo reminded me a lot of the relaxed wineries around Fredericksburg. They also had two gorgeous labs running around and a "wine cat" who was available for petting.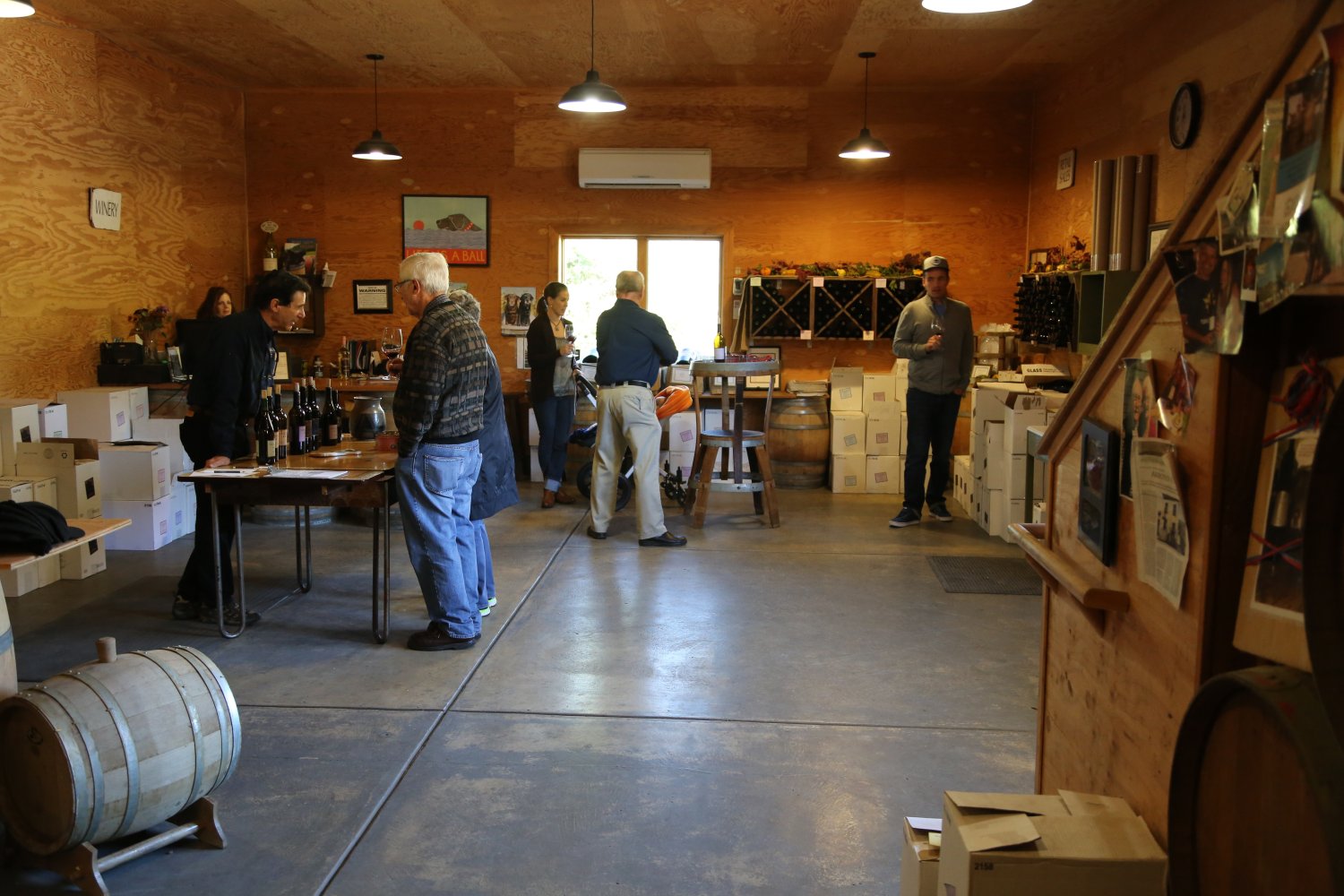 We took a short tour and tried five different wines. I bought a bottle of their Chardonnay, but also enjoyed their Tempranillo and the Port a lot. I've had some bad experiences with port, but this one was delicious without being overly sweet. I hope that we have a chance to visit again when I am back in November with Laura and Scott. After tasting, we sat outside during a brief reprieve from the rain to enjoy our cheeses and visit.
I had such a fantastic day with them and I still feel so happy from getting to spend time with her. I hope we don't let years pass without seeing each other again.