I am so relieved because normal temperatures have returned to Sacramento for the week with highs in the nineties and lows in the fifties. I didn't think I was going to make it last week. Our campus hosted the USA Track & Field Outdoor Championship over the weekend and I don't know how those athletes survived. On Friday, the temperature of the track registered at 152 degrees. THAT IS INSANE. I spent Friday afternoon at the meet on a balcony overlooking the track while feeling like I was going to die. I was in the shade and chugging water and it felt like THE END. I really don't know how anyone managed to run in that.
Our view wasn't great because of these big VIP decks (to the left and right in the pictures), so that was a bit of a bummer. Thankfully, our wonderful photographer, Jessica Vernone was on the field and took some amazing photos of the athletes.
I stayed until just before sunset then went home because I felt like I was going to vomit from the heat. I just can't handle it. On Saturday, I went to Orange Theory early that morning, then cleaned up and went to the office for a while. I made it back to the track for the afternoon and evening events, but sat in the grandstands for a better view (and also because I was wearing shorts and a tank top, so didn't want to run into coworkers on the deck). I got to see both Allyson Felix and Justin Gatlin run which was SO COOL. I had a a special pass that would allow me on the track and it took all of my self-control to not go down there and be a creepy fan.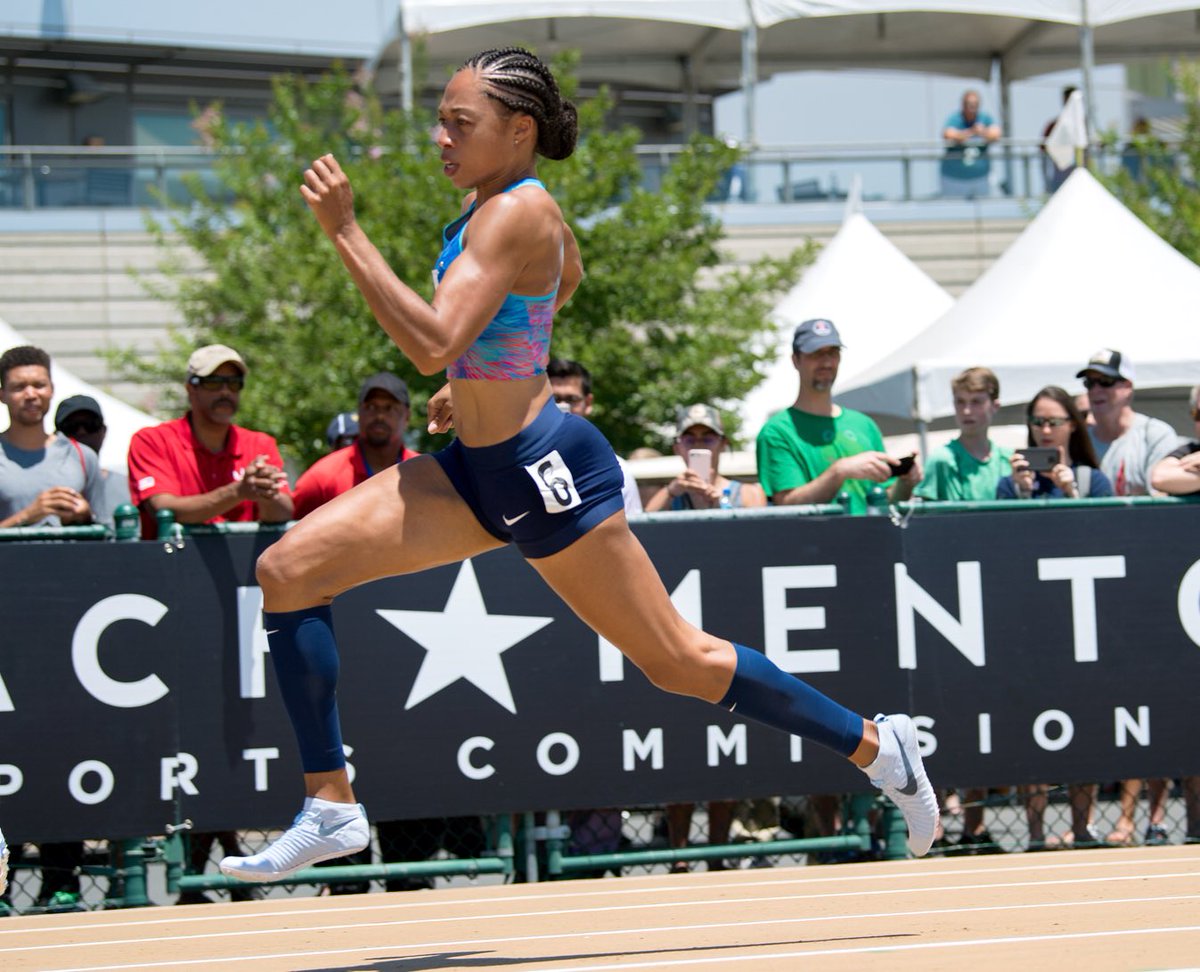 (image by Jeff Cohen)
Gatlin got first in the 100m and qualified for world championships in London in August, but didn't compete in the 200m. Felix scratched the 200m finals, but has a wildcard bye in the 400m from winning 2015 world championships. You can see the full list of world championship qualifiers here. It was super cool to watch all of these incredible athletes in person, and I REALLY hope that Sacramento gets the 2020 Olympic Trials (we are a finalist). Our city holds the top two attendance records for for the U.S. Olympic Track & Field Trials (in 2000 and 2004). GIVE IT TO US AGAIN.
(image by Jessica Vernone)
I originally planned to go back on Sunday, but I was sunburned and didn't know if I could face another day in the blistering sun, so I stayed home and took care of some stuff for work. I did get to watch the first few episodes of GLOW on Netflix and I LOVE IT. It is so fun and a total delight. I would watch a show about Alison Brie watching paint dry, so I'm super biased toward her anyway, but I totally loved it and cackled with glee throughout each episode.
We spent a lot of time watching wrestling as kids because the children of my parent's friends were mostly boys and they were obsessed, so when we were together it was all wrestling all the time (followed by "lets all beat each other up and pretend it's wrestling"). Watching the series made me SO THANKFUL to live in the age of workout gear that isn't a thong over spandex shorts.
I remember girls in my gymnastics classes wearing those and I was horrified (how can you exercise with what is essentially a wedgie!). And I also spent a lot of time noting how much time these girls spent readjusting said wedgie (I have always been a very judgy lady). Also, we were in third and fourth grade and the thought of ten year olds wearing thongs really grosses me out even more as an adult. WHY DOES YOU CHILD NEED A THONG ON IN PUBLIC???