1. Mad Men was pretty "meh" on Sunday. Thankfully, Pete Campbell made it all okay. Just look at that stupid bastard.
No one will ever be whiter than Pete Campbell. So jaunty in his little sweater.
2. Margaery Tyrell ran the London Marathon for charity in the totally impressive time of three hours and fifty minutes. She would have been such a fabulous queen.
3. Yesterday, I was caught up in a mob of young ladies with red lipstick and hippie skirts and one of them said "she looked so deck in that dress." What. What is that? Is that similar to one being decked out? Did she look slick like a boat deck?
4. "The Witches" was on HBO this week!! I remember watching that sometime around second grade and it scared the bejeezus out of me. I thought witches were real for a significant portion of my life. I would have been much more amenable to not talking in class if my teachers would have just told me they were witches.
5. Gone Girl.
I think Ben Affleck is perfect for Nick. He's handsome, but he gives such great guilt face and is so perfect at being a dickhead.
6. I laugh so hard when Bardot passes gas and it is accompanied by an audible noise. She looks around so confused like "who was that!?!!?"
You. It was you, you stinky little vermin.
7. I never feel more smug than when someone gives me crap because I don't party on weekdays (or really, any days) and I get to point out all of the times they missed work or came in feeling like death because they did.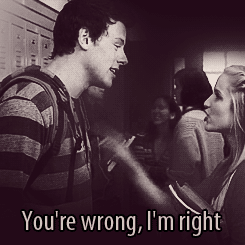 8. I stood at the bus stop on campus yesterday next to someone in a bedazzled Snuggie, a crown, and Crocs covered in glitter.
9. I wrote a ten-page report on prerequisite patterns and inconsistencies across the course inventory. And I was really excited about it.
No one else was.
10. We have a softball team at work and I'm on it (I know, THE HORROR). I was pretty anxious about being the person who was the worst and knew the least about playing softball. Thankfully, I felt much better after one of my co-workers asked how many touchdowns we had mid-game.
I did manage to hit the ball…right into someone's glove. But, I still made contact and that's an A+ day for me.
11. This same coworker also did not know who Prince George is. How do you live in a world without that little sasspot??? I assume she lives in a very sad hole.
I don't know how I'm going to survive without his fat little legs all over the news every day. I would gladly take imprisonment just to squeeze those chubby legs once. JUST ONCE.
12. PEEP SHOW 2014!!!! I'm surprised you didn't have an entry, Paula.
"Everybody Peeps"
13. Enjoy those Reese's Eggs this weekend. We are about to enter the terrible time when holiday-themed Reese's don't exist. Better stock up, kids.
We had an Easter egg hunt at work yesterday. I didn't participate, but I ended up with about 30 different pieces of Reese's candy from my coworkers who did. All the reward with none of the effort. Life happened right yesterday.
14. The new Finnish stamps commemorate the work of famed artist Touko Laaksonen.
God, how I wish this could be a stamp in America. The Facebook wars alone would be cataclysmic. As usual, the Scandinavians are light years ahead of us in all ways. I'll take a nice man booty on a stamp any day.
15. This needs to be a thing. Like right now immediately (I don't care how redundant that statement is).
(source)
MAKE THIS A THING.