1. How The Internet Reacted To Russia Invading Ukraine is everything.
In a completely selfish plea, please don't blow the Crimea to smithereens. I would really really like to see Livadia Palace one day. And, also, because I don't want innocent people killed.
2. One is never enough.
3. And the Hills explain it all. Again.
Last time we visited the world drama queens, Russian President Vladimir Putin…
…had totally gotten the best of President Obama on the world stage during the Syrian crisis.
4. I don't know how I can cook the same brand of oatmeal in the same packet size using the same bowl, same amount of water, same paper towel covering the top, same cooking time, and same power level and then one day it just boils over and explodes everywhere. What was the confounding variable! What went wrong???
5. I listened to this song on an endless loop while running this week. And I had three good runs in a row. Come to Austin child.
"Running" is also a great song to run to. Ha.
6. In things that will make you feel ancient, Cruel Intentions turned 15 today.
That movie is so amazing.
7. Don't cheat on ladies in Texas. We are crazy.
8. Cat in a hat. I don't even remember where I found this, but I watch it at least twice a day.
He's like a cute little khaki turtle.
9. Forbes published the results of a study showing that drivers spend an average of 47 hours a year sitting in traffic in the worst gridlocked cities. It made me sad because that's what I spend in a month. Over an hour both ways and I only live 10 miles from work. It took me two hours to get from UT to the Palmer Events Center once. It's 2.5 miles. I don't know who they surveyed that lives in Austin, but I assume they must live within a half mile of their place of employment.
I'm so so grateful that most days I am able to ride the bus. The days I have to drive make me batshit crazy and usually end in cookies and cheap wine for dinner.
10. This is both terrifying and mesmerizing. Cannot look away.
11. Beth on Walking Dead is 28. TWENTY-EIGHT. I was all like "Get off my Daryl, child" until I realized she wasn't 19.
But, seriously though, step off.
STEP. OFF.
12. I have so much anxiety about the finale of "True Detective" on Sunday. I haven't felt this crazy in a long time. Well, since Saturday specifically, but still. It's all we have been talking about at work this week. By "we" I mean the three really cool people who also make up the "Game of Thrones," "Walking Dead," and the "Friday Night Lights" club. I think we need a name like "Friday Night Thrones Detectives with Zombies." We don't get out of the house much, but when we do, it's to talk about TV.
I'm terrified I'm going to be horribly blindsided (*cough* *cough* Sophia in the barn) or completely let down (*cough* *cough* every episode where Carl is still alive). I spend all of my free time on the internet reading about what may or may not probably not happen but it could (most of the theories are tidily summarized here). But, damn if it's not exciting.
13. Also, I wish I could get Rust's fantastic line on a t-shirt as a general warning to those I encounter: "What I'm saying is, I was aware that I might have lost my mind."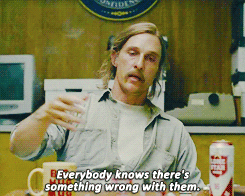 It's those that don't seem to know that who worry me.
14. This show somehow made me have empathy for resident scumbag Marty with his sad life of eating crappy food, trolling the internet, then going back to work. Typical Tuesday 'round here.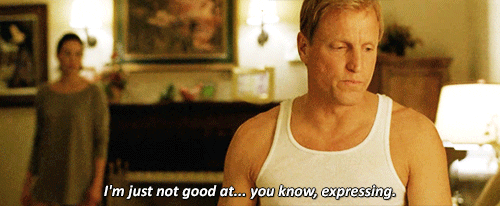 15. WHY WAS MAGGIE WEARING YELLOW IN THE BAR!!!!!!!!!!!!!!!
Sorry. I'm reading "The King in Yellow" as fast as humanly possible (the Kindle edition is free on Amazon).