Y'ALL! The craziest thing happened. I still can't believe it. As I mentioned before, I'm playing on the softball team for work. And, as  you probably know by now, I suck at sports. So, I spend the majority of the game praying that the ball doesn't get hit in my direction and if the ball does come toward me that it doesn't actually hit me. Also, many prayers that I don't fall down when batting. Between the sand, the awkwardness of swinging a bat while kind of ducking because I'm a grown woman who is terrified of the ball (IT'S FLYING AT MY FACE!), and just me being me, I know it's coming. It's a full hour of fear and anxiety.
Just a big ol' ball of nerves. I get so anxious that I can't even pull it together to make fun of my coworker who runs like she's a fancy trotting horse:
I didn't get to make any jokes about being a dandy or losing her tophat.
Anyway, I spend a lot of time worrying about all the ways I can totally and completely fail the team. I'm not the worst player, but I'm definitely on that side of the bell curve. So, on Tuesday night, I went up to bat. All strikes. No points. Pure failure.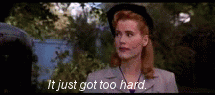 And our couch is just the nicest guy. He's so positive and encouraging it's ridiculous. I can't even deal with his cheerfulness sometimes. You don't need to tell me good job when a ball gets hit past me (far into left field) and the shortstop outruns and beats me to it. When I started running, he was about at least 30 yards behind me. That's embarrassing. You can tell me it was bad.
During our last time to bat, I was up. The bases were loaded and we had two outs. First ball. Strike. Second ball. Foul. Third ball.
I hit it!! All the way past the center fielder. IT WAS A MIRACLE! I made it all the way to third base before they got the ball back and all the other runners scored points (<- I feel like that might not be the right term).
We lost the game by two points, but I don't even care. This was my greatest athletic achievement. I have now reached the pinnacle of my athletic career. It's all downhill from here. I hope people don't expect anything more from me for the rest of the season.